Shopping at the Panjiayuan Weekend Market - Beijing. This spontaneous market came into being in 1992 as a roadside market. As trade in folk antiques and handiwork grew, it had become a large antique and handiwork market spreading folk culture in 2002. Many Chinese antique collectors believe that they started their career in Panjiayuan Market.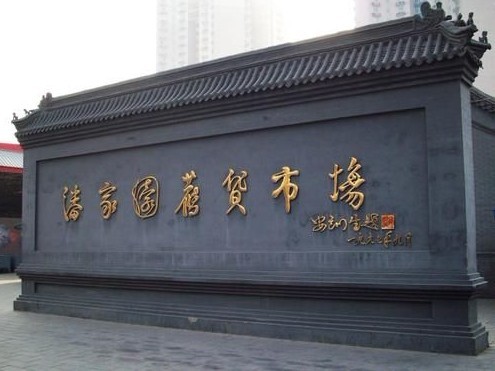 Panjiayuan Weekend Market history buffs and junk collectors alike were in jitters two years ago as rumors swept through the dusty stalls of Panjiayuan about official plans to clean up the capital's infamous, largely unregulated and delightfully chaotic "Dirt Market."

Hence, when construction crews moved onto the site alongside the Third Ring Road, few were overly optimistic. After all, previous clean-up campaigns had curtailed the popular Sanlitun street market, then wiped away whatever charm the long-running open-air "Russian Market" could claim as it was relegated first to depressing warehouses, then the even less-welcoming - although creatively-named – Aliens' Street Market.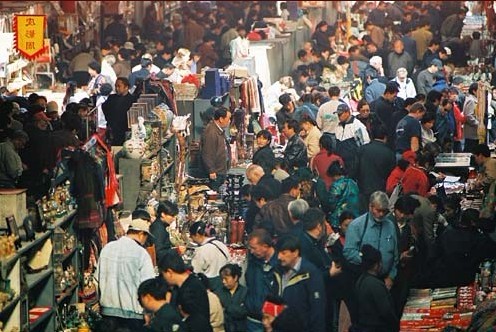 "Panjiayuan is finished," one vendor dejectedly said at the time, while dusting prized pieces of porcelain, displayed on a tattered blanket. "They will move us far away and there will be no more crafts market where everything is so free."

Fast-forward to this year (2004), and Panjiayuan is still open and, by practically any measure, bigger and, better, with bargains galore. China's capital flea market remains chock-a-block with beads, bangles, jade, jewelry and, well, junk.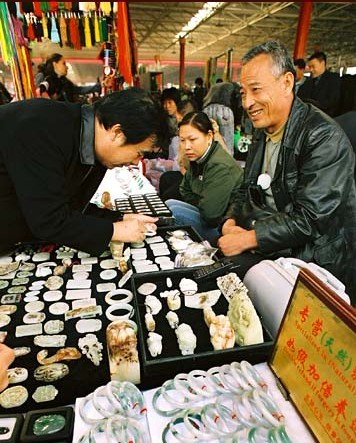 If there is a trinket - however tacky - found anywhere in China, rest assured you will also find it here. From Mao caps to Ming pottery, Yinxing teapots to military binoculars, Panjiayuan has everything, including Tibetan trunks, bronze door knobs, antique locks, wooden puppets, even actual kitchen sinks.

This marvelous mélange of miscellany is a major part of Panjiayuan's particular charm. Some markets specialize in flowers, silk or jade. Others more typically offer whatever is trendy, all the latest consumer gadgets and bobbles.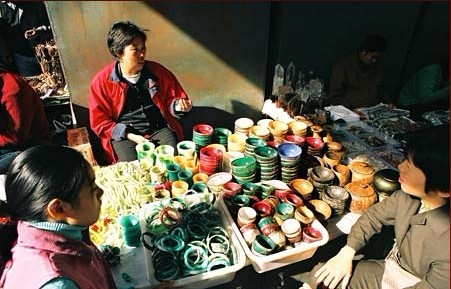 Even with its enormous stock of traditional crafts, this outdoor emporium is a real market of the moment. And the masses. In many ways, Panjiayuan has always been more a festival than market.

This weekend spectacle is staged only on Saturday and Sunday. Still, serendipity awaits at stalls where visitors always find a surprising item they never thought they needed, but were suddenly sure they could never live without.

And each weekend, the delightful discoveries are renewed: old musical instruments one week, postcards or pottery the next.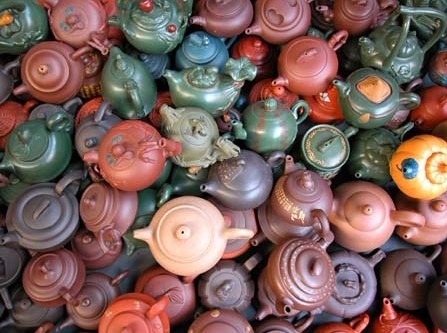 Given the spontaneity, any attempts to upgrade such a market would expect to encounter plenty of skepticism. So it went at Panjiayuan, where renovation was done in phases, so stalls shifted around, but the market never closed.

Opinions have largely been positive. The biggest surprise has been how little of the boisterous atmosphere has been altered. Officials took a soft approach, leaving untouched many of the lovable quirks that made the market so unique.

There are still no shills or noticeable market bosses barking orders. But there are basic services like toilets and food.And the revamped market is much more tourist friendly, with craft stalls clustered together in sections according to offerings or regional origin, making comparison shopping all the easier. Tourists especially praise the overhead directional markers in Chinese and English.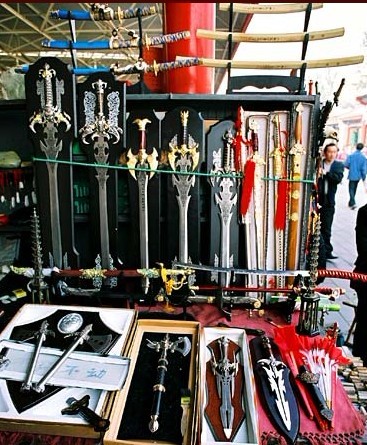 "Way better!" says collector Paul Wei, as he searches for old magazines and comic books in the stretch of book stalls that runs longer than a football pitch along the entire south end of the market. There are also massive sections devoted to pottery, jade, calligraphy. furniture and colorful Tibetan handicrafts.

The most noticeable change for Panjiayuan is the set of permanent buildings, housing shops that mainly sell antiques. A two-story section focuses on artifacts from the "So-Called Cultural Revolution."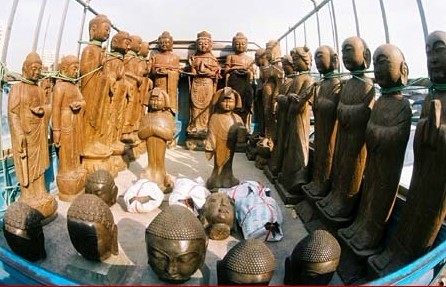 Yet these more upscale stalls hardly impact on the jumble-sale atmosphere of the main market. As before, you find paintings, posters and postcards, Buddhist statuary, opium pipes and old musical instruments, all mixed in with boxes, Chinese beads and woven bags.

Nobody is really sure how the market started, or why it settled in this location, on a dirt field a few kilometers south of the railroad tracks. Locals affectionately dubbed it the Dirt Market, which describes the initial display floor.



Vendors paid no rent. They simply carted in whatever they had to sell, spread it on a blanket or the bare ground in the true spirit of grass-root commercialism.

At the outset in the early 1990s, it was a local market, for locals. Slowly, word spread to collectors, who came to shift for treasure in Panjiayuan's piles of junk.

Dick Wang, a former Asian art expert with international auction house Sotheby's, now runs a top antique shop in Beijing. He admits spending many weekends digging for diamonds at the Dirt Market, finding valuable porcelain and snuff bottles.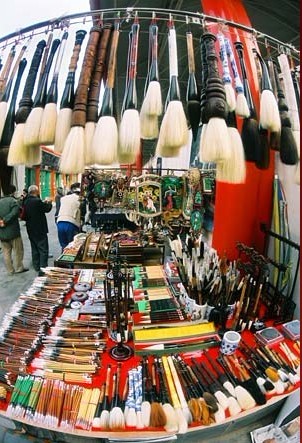 The market name is almost as mysterious as its spontaneous birth. The Chinese characters are translated as Pan Family Square (or village, place or garden). Beijing historical records reveal that the market site was long ago a typical clan village of the Pan family.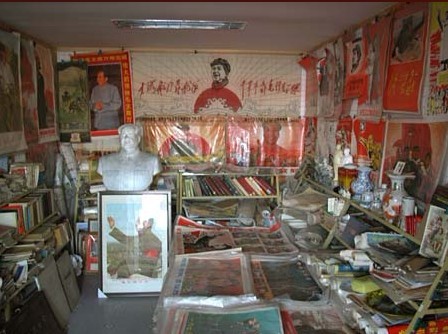 When Mao launched China's modern industrialization, Pan Village became known for its textile, food processing and printing factories.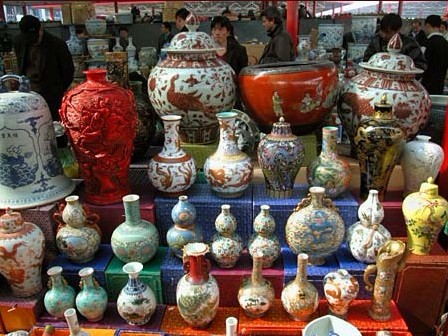 No more. For a full decade, locals and visitors know Panjiayuan as the best place to browse for bargains. Or simply browse. Buying is surely part of the fun, but you can easily while away any weekend simply marveling at the detritus of the world's oldest civilization: from Ming horses to Qing pottery to Mao kitsch.



Panjiayuan Market (Pan Jia Yuan Jiu Huo Shichang) is open every Saturday and Sunday from 7 a.m. until 5 p.m. in the southeast corner of the Third Ring Road, just east of Longtan Park. Mornings are the best time to see the market in full bustle, but many believe prices drop towards the end of the day. Some may speak English. It helps if you can learn Chinese numbers - or use a pen and paper to write them down and show as you bargain.
© Copyright ©2009-2014 WWW.RADEGASTLAKEVIEWHOTEL.COM. All Rights Reserved.




Radegast Lake View Hotel Beijing
(北京人卫酒店(原北京康源瑞廷酒店)

Phone: 0086-10-59097777
Fax: 0086-10-59097788

Address: No. 19 Panjiayuan South Road, Chaoyang District, Beijing

Chinese Address:
北京朝阳区潘家园南里19号

Postal Code: 100021


Book a room online


Just fill up a booking form


Enjoy the exclusive lowest rate


Registration and Credit card are NOT required for booking


Pay at the hotel reception upon check- in

Check the room rate !